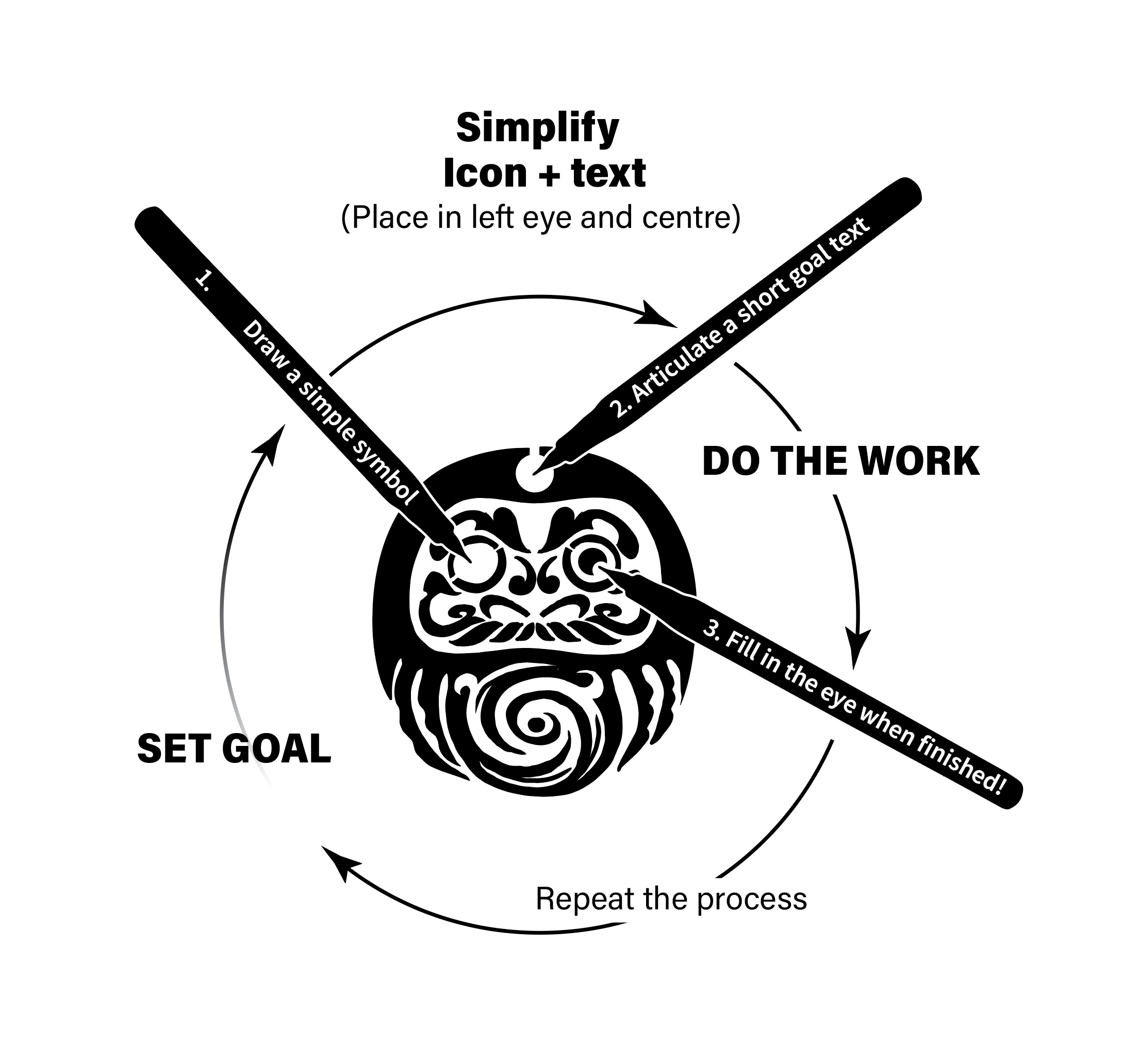 A ritual is a great way to get consistency into your goal achieving process, which is why we borrowed the traditional Japanese ritual of the DARUMA Doll  and bent it into a western system for behavioural adjustment!
Borrowing the W for Western persuasion purposes, the Daruma becomes the WARUMA. A goal achieving buddy that keeps you focused when you are trying to achieve any sort of goal.
Its ritual relies on 3 important principles:
COMMITTING TO A FOCUSED GOAL,
CONSTANTLY AWARE OF YOUR SACRIFICES
CONSISTENT FORWARD MOTION.
COMMIT TO FOCUS: Writing down your goal in its left eye is the start of a committed journey. Simplifying your needs and desires back to a single goal is the ultimate focusing act, which gives you a way to share what you are doing.
CONSTANT SACRIFICE
Any worthy goal demands a certain amount of sacrifice. Keeping your eye on your goal can get difficult when we get distracted by things or people we love, want or are attracted by. When we lose our way or run into adversity we need to remind ourselves of the reward that awaits us when we reach our goal!
WARUMA reminds yo to "Stop complaining… You can Do it!!! ".
CONSISTENCY
WARUMA is a visual In-your-face Buddy that keeps you on track to make forward steps every day and reinforce the reasons why you believe in your goal! Once you eventually reach your goal, you move to the next goal…. but not after finishing the ritual and filling in the right eye, officially closing off the old goal. This ritual can be repeated over and over again and as you get used to the process you will notice that a wondering focus can be sharpened by just seeing your next goal!
So make, draw or get your hands on a Waruma….and reach your goal!